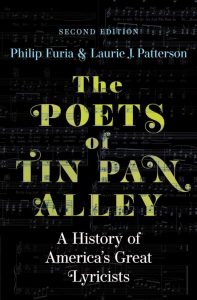 The New Edition of The Poets of Tin Pan Alley Offers a Unique Perspective on these Great Songwriters including a Compelling Chapter on Leo Robin and His Music
From the turn of the century to the 1960s, the songwriters of Tin Pan Alley were synonymous with American popular music. Irving Berlin, Cole Porter, George and Ira Gershwin, Rodgers and Hart — even today these giants remain household names, their musicals regularly revived, their methods and styles analyzed and imitated, and their songs the bedrock of jazz and cabaret. In this new edition published on October 25, 2022 by Oxford University Press of The Poets of Tin Pan Alley, authors Philip Furia and Laurie Patterson offer a unique perspective on these great songwriters, showing how their poetic lyrics were as important as their brilliant music in shaping a golden age of American popular song.
Furia and Patterson continue the tradition of great perception and understanding established in the first edition as they explore the deft rhymes, inventive imagery, and witty solutions these songwriters used to breathe new life into rigidly established genres. They devote full chapters to such greats as Irving Berlin, Lorenz Hart, Ira Gershwin, Cole Porter, Oscar Hammerstain II, Howard Dietz, E.Y. Harburg, Dorothy Fields, Leo Robin, and Johnny Mercer.
They also offer a comprehensive survey of other lyricists who wrote for the sheet-music industry, Broadway, Hollywood, and Harlem nightclub revues. This was the era that produced The New Yorker, Don Marquis, Dorothy Parker, and E.B. White — and the book places Tin Pan Alley lyrics firmly in this fascinating historical context. In these pages, the lyrics emerge as an important element of American modernism, as the lyricists, like the great modernist poets, took the American vernacular and made it sing.
The chapter about Leo Robin in The Poets of Tin Pan Alley provides interesting biographical information and fascinating antidotes on some of Leo Robin's classics he wrote lyrics for with composers including "Hallelujah" with Vincent Youmans, "My Ideal," "Louise" and "Beyond the Blue Horizon" with Richard Whiting, "Love in Bloom," "June in January" and "Thanks for the Memory" with Ralph Rainger, "In Love in Vain" with Jerome Kern, "Hooray for Love" with Harold Arlen and "Diamonds Are a Girl's Best Friend" with Jule Styne. Here is the story for "Love Is Just around the Corner" with Lew E. Gensler for the film Here Is My Heart:
"Hollywood gave Robin more chances to flash his wit, though such lyrics quickly earned him a reputation for being "arty." Teamed with Lewis E. Gensler in 1934, he hit his urbane stride with "Love Is Just Around the Corner," which Bing Crosby sang in Here Is My Heart. The title phrase gave a romantic twist to Herbert Hoover's by-then laughable prediction of prosperity, the rhymes on "corner" — "sentimental mourner" and "couldn't be forlorner" — were refreshingly antiromantic, and there was a suggestive turn to "around" in the final invitation to "go cuddle in a corner" where "I'm around you." In the release, Robin turned one of his wittiest metaphors:
But strictly between us,
You're cuter than Venus
and what's more you got arms.
The elegant allusion, the archly casual "strictly between us." and the thumping slang of "what's more you got arms" gave Hollywood another taste of the blend of slang and sophistication that spiced Robin's lyrics."