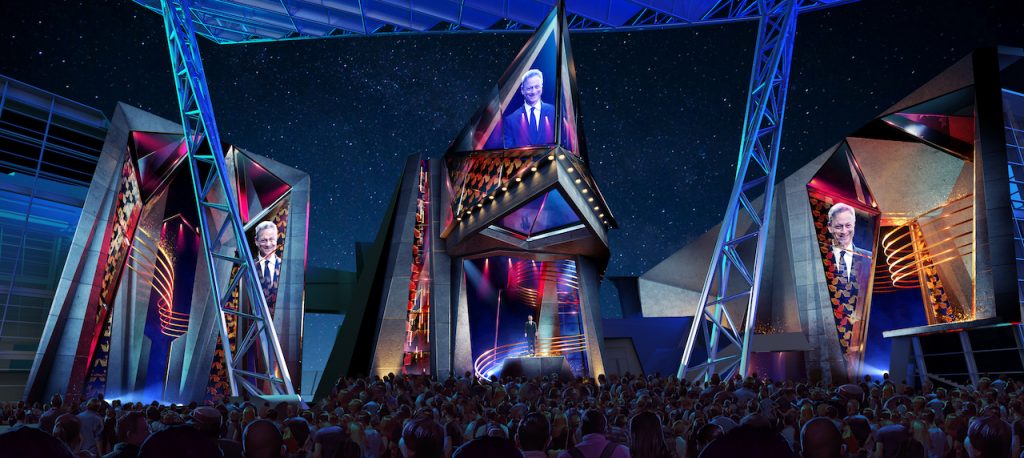 The National World War II Museum in New Orleans Premieres new exhibit
Expressions of America featuring Jazz Classic "Thanks for the Memory"
On the eve of Veterans Day, The National World War II Museum in New Orleans premiered its newest attraction, Expressions of America, a first-of-its-kind nighttime sound and light show celebrating the power of individual Americans to impact the world around them during a time of monumental conflict. 
The Expressions of America World Premiere presented by Stephen G. and Regina Oswald Foundation was held in conjunction with the Museum's Veterans Day weekend celebration. The Museum honored all of our nation's veterans and celebrated their service on Veterans Day with commemorative programming, the annual Victory Ball, and a special visit from 20 WWII veterans traveling with the Gary Sinise Foundation's Soaring Valor program.
Generously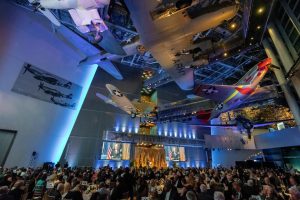 presented by Bob & Dolores Hope Foundation, Expressions of America brings history to life like never before with music, archival footage and personal reflections. Combining cutting-edge technology and special effects with the real words and stories of everyday people, the show places viewers in the center of the war's most epic and personal moments, immersing them in the experiences of the men and women who served our country in every way imaginable during World War II.

"Expressions of America has been more than five years in the making, and we are thrilled to finally be able to share this groundbreaking project with Museum visitors," said Stephen J. Watson, Museum President & CEO. "This innovative experience provides an exciting and relevant way for the Museum to connect with audiences of all ages and advance our educational mission. As audiences experience the war through the thoughts and feelings of those who experienced it firsthand, they will better understand the WWII generation's emotional journey to defeat tyranny and defend freedom throughout the world."
Centered under the Bollinger Canopy of Peace, a soaring centerpiece spanning the campus, Expressions of America uses projection mapping technology — which transforms architectural objects through movement and light — to project living murals up to 90 feet tall on the facades of the Museum's buildings surrounding the Col. Battle Barksdale Parade Ground. 
Hosted by actor and veterans advocate Gary Sinise, the 90-minute experience includes a special custom exhibit highlighting the role of correspondence during the war, a menu of festive food and drinks, and live pre-show entertainment before guests move outdoors to the Parade Ground for the approximately 25-minute sound and light show, followed by original jazz versions of war-era classics including "Thanks for the Memory," composed by Ralph Rainger with lyrics by Leo Robin, and artistic projections of information about the real-life individuals featured in the show.
Featuring an original musical score performed by New Orleans musicians, including members of the legendary Preservation Hall Jazz Band, Expressions of America sends a powerful message about the tremendous impact that individual people — such as US Army nurse Major Birdie Daigle, Staff Sergeant and Medal of Honor recipient Edward A. Carter Jr., renowned entertainer Bob Hope, and others — can have in times of great conflict.
"I think my father would have been very honored to know that an esteemed institution like The National WWII Museum is helping to preserve his legacy for future generations through Expressions of America," said Linda Hope, Bob Hope's daughter and Chair/CEO of Bob & Dolores Hope Foundation. "Nothing brought him more joy than to hear the laughter of the troops he entertained around the globe. In a time of global darkness, he understood the importance of bringing a piece of home to the frontlines. I'm touched to know that his story and service will live on through this show."   
Using source material from the Museum's collection — letters written during the war and oral histories — the show helps viewers understand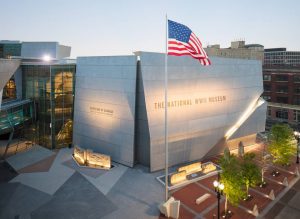 how soldiers, nurses, chaplains, factory workers, entertainers and supportive loved ones on the Home Front banded together. They each created their own meaningful acts of sacrifice, ingenuity, bravery and love to preserve freedom.
"With Expressions of America, we are introducing viewers to the stories of World War II in a completely new way," said Kimberly Guise, the Museum's Senior Curator and Director for Curatorial Affairs. "The script is shaped by letters from a wide range of individuals, helping to present a diverse portrait of American life from a time when the outcome of the war was uncertain. I'm grateful to have played a part in this project to bring the WWII generation to new audiences."
Expressions of America is made possible with additional support from the US Department of Commerce Economic Development Administration and New Orleans & Company. The show is a permanent addition to the Museum campus and will run three to four times per week, with show times and dates varying seasonally. Tickets to Expressions are available a la carte, with a three-course dinner or as part of a Museum admission package.