The Legendary Jazz Pianist Bill Evans' New Album Morning Glory and Inner Spirit Features "Up With the Lark" in Live Recordings from Buenos Aires, Argentina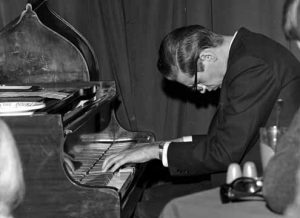 Previously unreleased live recordings by the legendary jazz pianist Bill Evans are on a new album Morning Glory Inner Spirit from Resonance Records. While recorded six years apart and showcasing two different iterations of his famous trio, come tied together stronger than most, both were recorded in Buenos Aires, Argentina during times of political upheaval
Recorded at the Teatro Gran Rex in 1973, Morning Glory features Evans with bassist Eddie Gomez and drummer Marty Morell, his longest standing bandmates. While from the standpoint of the setlist the show seems like a typical set, with Evans' usual blend of originals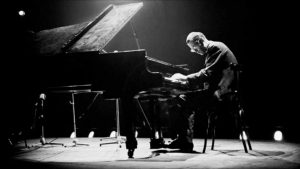 and standards, the concert is anything but ordinary. Made at a time of violent political turbulence due to the arrival of formerly exiled Argentinian president Juan Perón, the performance delivers a special charge, balancing out the tension in the air with accessible melodies, intriguing harmonies, expert improvisation and steady swing. One of Evans' greatest innovations was his conception of the piano trio as a band of equals, not a rhythm section supporting the star, which means more interplay and spotlights on his bandmates. The trio moves with one mind and singular purpose through masterful takes on favorite standards like the Jerome Kern and Leo Robin chestnut "Up With the Lark."
Recorded in 1979 at the Teatro General San Martin, Inner Light showcases Evans' final trio with bassist Marc Johnson whose distinctive tone gives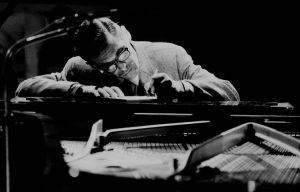 the arrangements an extra sparkle and drummer Joe Labarbera. Argentina's circumstances had changed since Evans' previous appearance in the country, with the military coup in 1976 increasing tensions, violence and officially sanctioned murder of dissidents. Into this dark cloud stepped the Evans trio, with a setlist that contained only two tunes in common with the 1973 appearance – "Up With the Lark" and "My Romance.".
In 1944, Meet Me in St. Louis captivated moviegoers the world over. The unbridled nostalgia for a simpler time was very appealing in the turbulent war years. Two years later, Twentieth Century-Fox made its own film to appeal to that same audience – Centennial Summer. With an excellent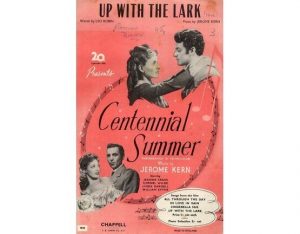 screenplay by Michael Kanin and elegant and stylish direction by Otto Preminger, Centennial Summer takes a colorful, fun and even touching look at the 1876 Philadelphia Exposition and one family's trials and tribulations and follies and foibles. Like Meet Me in St. Louis, Centennial Summer was a love letter to a bygone era and like Meet Me in St. Louis, Centennial Summer was a musical, with some wonderful musical numbers by composer Jerome Kern and lyricist Leo Robin including two charmers that went on to become staples of the Great American Songbook – "Up with the Lark"  and "In Love in Vain."
Bill Evans performs at the Monterey Jazz Festival in 1975 the jazz standard "Up With the Lark," which he took with him and played around the world.