The Kitty performed "Diamonds Are a Girl's Best Friend" on The Masked Singer
The Masked Singer is a reality singing competition television series on Fox. It features celebrities singing covers of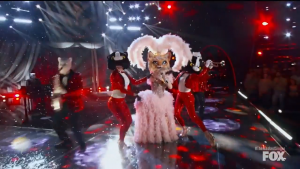 famous songs while wearing head-to-toe costumes and face masks that conceal their identities from other contestants, panelists, and an audience. The Nick Cannon hosted show employs several panelists who use various clues alluding to the celebrities' identities that are given during the show to guess who they could be after each performs. 
Ken Jeong, Jenny McCarthy Wahlberg, Nicole Scherzinger, and Robin Thicke appear in each episode and a guest panelist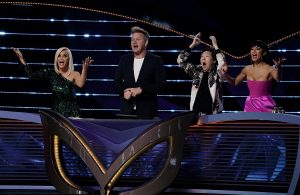 often appears alongside them. At the end of each episode, the panelists and audience vote for their favorite performance and the celebrity with the fewest votes is eliminated from the competition, taking off their mask and revealing their identity.
With her stunning performance of "Diamonds Are a Girl's Best Friend," composed by Jule Styne with lyrics by Leo Robin,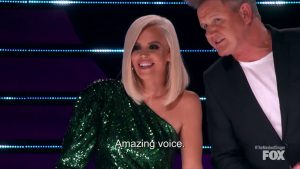 on Wednesday night, April 29's episode, Kitty earned a safe vote from the audience and advanced to the Quarter Finals of The Masked Singer 2020. The Masked Singer judges, namely, Ken Jeong, Robin Thicke, Jenny McCarthy, Nicole Scherzinger and guest panelist Gordon Ramsay loved Kitty's rendition of Monroe's iconic song. We know Leo Robin would have loved it too.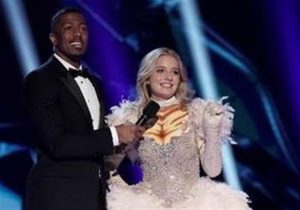 She stumped the panel of judges in being able to identify her, but the panelists were not at all stumped by her amazing "voice of an angel" along with her versatile talent. Gordon commented Kitty had fantastic control and amazing delivery and the way she danced – "it's so sensual." On May 6, Wednesday night's episode of The Masked Singer, the panel was left stumped once again when platinum-selling opera singer Jackie Evancho was eliminated from the competition and then unmasked to reveal to be the sultry Kitty  
Kitty performed "Diamonds Are A Girl's Best Friend" during "The Battle of The Sixes: The Final 6" on The Masked Singer 2020 (Season 3).