Melissa Errico's new studio album Out Of The Dark: The Film Noir Project features Leo Robin's "Checkin' My Heart"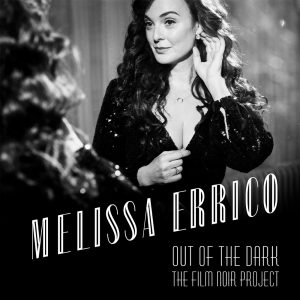 Singer, actress Melissa Errico has announced the release of her compelling new studio album, Out Of The Dark: The Film Noir Project on February 18 on the Ghostlight Records label. At the height of the COVID-19 pandemic in 2020, when the world was locked away in lonely rooms with only old movies to watch at midnight, Errico suddenly returned to one of her life-long obsessions – noir! The genre is noted for its dark, disturbing sensibility of intractable fatalism that Paris existentialists discovered in American film during the 1940's.
Noir continues to run as a mesmerizing, mysterious current through modern movies and music, and Errico has embraced it in her own artistic endeavors. She recently co-curated a film festival of noir classics at New York's French Institute Alliance Française, wrote an essay in The New York Times about having a black-sequined gown specially made to play the role of the femme fatale on stage, and offered Manhattan a concert of noir songs.
Out Of The Dark: The Film Noir Project presents a masterly-crafted song cycle, all black-velvet piano and vibraphone tones, telling a complete story of hope, despair, and hope renewed. Her song selections reach from noir classics, all arranged by musical director/pianist Tedd Firth, such as Harry Warren & Leo Robin's mischievous "Checkin' My Heart."
"I've always loved noir songs," says Melissa. "They thrill me with their sensuality. I loved finding my lost inner femme fatale. This album is about another time and this time, both." "I see this album as a kind of fever dream. I want the listener to swoon at the enchantments of the music while joining me on a trip from flirtatious mystery…to true despair…to the light of hope," says Melissa. The album is now available for pre-order from Ghostlight, Amazon, iTunes, Apple Music and will be available for digital download on all platforms on February 18.
Melissa Errico is an American actress, singer, recording artist and writer. She is known for her Broadway musical roles such as Eliza Doolittle in My Fair Lady, and Kurt Weill's One Touch of Venus, as well as her recordings of musical theater classics. In recent years she has also become a contributing writer to The New York Times.
She met her husband, former tennis professional and ESPN sports commentator Patrick McEnroe, when they were in grade school together and they married in 1998.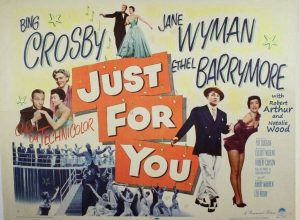 "Checkin' My Heart." was first introduced by Jane Wyman in the 1952 film Just For You, which has a wonderful cast starring Bing Crosby and a very young Natalie Wood of 14 years old, a pleasant Warren-Robin score which includes the Oscar-nominated "Zing a Little Zong," and some gorgeous location shooting at Lake Arrowhead, California.  In Going My Way Bing Crosby and American Culture, author Bernard F. Dick said this about the scene with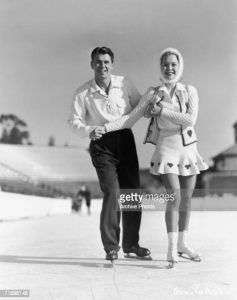 Jane Wyman playing a bride who has been jilted, "Choreographer Helen Taamaris…staged Jane's big number, "Checkin' My Heart," which on Broadway would have been a showstopper. Dressed in an elegant wedding gown, Jane angrily plucks the flowers from her bouquet, implying that the groom abandoned her before they even reached the altar. After heeding the advice of her alter ego, who pops up in each panel of her three-way mirror, she resolves to pay more attention to a man's bank account rather than to her emotions, proclaiming [Leo Robin's lyrics], "I'm not exactly hapless/ in a strapless gown," as she turns her bridal outfit into one."
Jane Wyman was an actress, singer, dancer, and philanthropist. She received an Academy Award, three Golden Globe Awards and nominations for two Primetime Emmy Awards.  Wyman was the first wife of actor and future President Ronald Reagan.  (See photograph of President Ronald Reagan with wife Jane Wyman ice skating)