Megan Hilty in Concert Live From Lincoln Center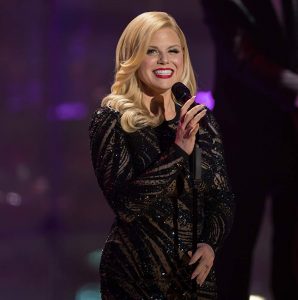 Stars in Concert shines the spotlight on the iconic leading lady Megan Hilty in Concert Live From Lincoln Center by PBS on May 24, 2019. Filmed in the beautiful Appel Room overlooking Central Park, this powerhouse vocalist celebrates the musical traditions of Broadway and beyond, performing signature songs, such as "Diamonds Are a Girl's Best Friend," that have shaped her life, accompanied by a world-class band.
With an operatic voice range and sunny charm, Tony-nominated songstress Megan Hilty is the epitome of musical stardom. Megan Hilty has charmed audiences on stage and on screen in a variety of roles. After making her Broadway debut as Glinda the Good Witch in Wicked opposite Idina Menzel to critical acclaim, she went on to star as Brooke Ashton in Noises Off, Doralee Rhodes in 9 to 5: The Musical, and as Ivy Lynn on NBC's musical-drama series Smash. In May 2012, Hilty appeared in Gentlemen Prefer Blondes, whose score was written by Jule Styne and Leo Robin, as a part of the Encores! staged concert series and she received rave reviews for her performance.
For this special filmed in the twinkling Appel Room, the multifaceted artist brings her immense talents and infectious charisma to a versatile set of songs celebrating favorite musical-theater composers and classic standards. For your enjoyment, here is Megan Hilty singing passionately "Diamonds Are a Girl's Best Friend."