Madonna's adoring fans sing-a-long with her to "Diamonds Are a Girl's Best Friend" on Rebel Heart Tour
Madonnna's Rebel Heart Tour launched on Sept. 9, 2015, in Montreal, spanned over seven months and visited four continents. It hit 20 arenas in the U.S. and Canada through the end of October. A European run through 16 cities in 11 countries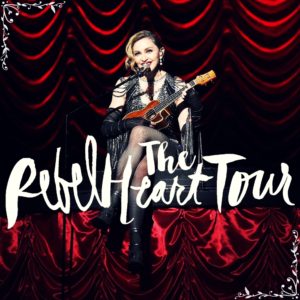 followed in November and December, and a second North American stint began in January. Seven Asian cities were on tap in February, and the tour's final leg wrapped Down Under with a four-city sweep through Australia and New Zealand with the wrap on March 20 in Sydney. Her recently completed Rebel Heart Tour earned $170 million & sold more than 1 million tickets. The pop superstar solidifies her status as the highest-grossing solo touring artist in Billboard Boxscore history.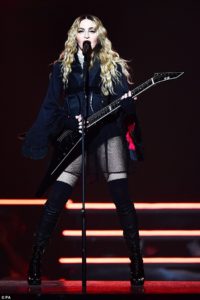 Based on Billboard's Boxscore archives that stretch back to 1990, her overall concert grosses reached $1.31 billion with the tour's final show.
Madonna is a singer, songwriter, dancer, actress, and businesswoman. This pop icon has become the "Queen of Pop" with the distinction of the greatest influence on other artists. Madonna is recognized as the best-selling female recording artist of all time and she achieved popularity by pushing the boundaries of lyrical content in mainstream popular music and imagery in her music videos, which became a fixture on MTV. For your enjoyment, here is Madonna's adoring fans sing-a-long with her of "Diamonds Are a Girl's Best Friend" at a concert on the Rebel Heart Tour.
Flashing back to 1953, we all remember the iconic scene of Marilyn Monroe singing "Diamonds Are a Girl's Best Friend" in the film Gentlemen Prefer Blondes. "My favorite scene in all of Monroe's movies is when she does that dance sequence for 'Diamonds Are a Girl's Best Friend.' And when it came time to do the video for the song [Material Girl], I said, I can just redo that whole scene and it will be perfect,"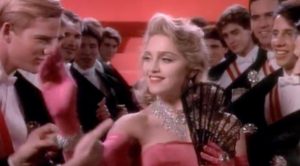 Madonna said in 1987 to the New York Daily News. "Marilyn was made into something not human in a way, and I can relate to that. Her sexuality was something everyone was obsessed with and that I can relate to. There were certain things about her vulnerability that I'm curious about and attracted to." Madonna was a fan of Marilyn Monroe and, in 1985, Madonna paid homage to Marilyn Monroe's 1953 film Gentlemen Prefer Blondes in her "Material Girl" music video. Here is Madonna paying homage to Marilyn Monroe in the music video for the second single from her icon album Like A Virgin.