George Clooney's satirical dark comedy "Catch-22" on Hulu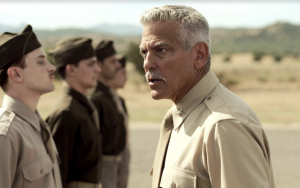 Catch-22 is a satirical dark comedy miniseries based on the novel of the same name by Joseph Heller. It premiered on May 17, 2019, on Hulu. The series stars Christopher Abbott, Kyle Chandler, Hugh Laurie, and George Clooney, who is also an executive producer and director for two episodes. The series was written by Luke Davies and David Michôd.
John Yossarian (Christopher Abbott) is a United States Army Air Forces bombardier in World War II,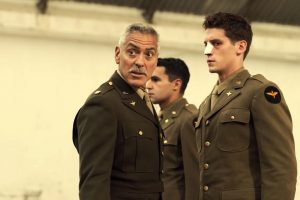 furious that thousands of people are trying to kill him and that his own army keeps increasing the number of missions he must fly. He is trapped by the bureaucratic rule Catch-22, which considers a willingness to fly dangerous combat missions to be insane, yet a request to be relieved of duty on the grounds of insanity to be the process of a rational mind, so any such request must be denied.
The events occur in the Mediterranean theatre of World War II while the fictional 256th US Army Air Squadron is based on the (fictionalized) island of Pianosa, in the Mediterranean Sea, and conducting bombing raids over heavily defended fascist controlled Italy. In this period piece, the music selection matches this place in time. The film makers frequently select the music with lyrics written by Leo Robin for these period films. In this film is the popular wartime song "No Love, No Nothin'" performed by Rosemary Clooney, composed by Harry Warren with lyrics written by Leo Robin.
Alan Sepinwall's from RollingStone said this about episode's 2, from season 1, music,
"The soundtrack is peppered with up-tempo big-band hits including "No Love No Nothin'," by Rosemary Clooney (aunt of George), and "Massachusetts," by Anita O'Day. These are meant to be ironic counterpoints to Yossarian's grim missions, but they often feel like an inadvertent critique of the story they're accompanying. The songs, even the ballads, have rhythm and forward momentum…." Rosemary Clooney's recording "No Love No Nothin'" is from her 1991 album For the Duration, which covers songs popular during World War II. Here is the scene with the popular song "No Love, No Nothin'" performed by Rosemary Clooney.