Delray Beach Playhouse presents Thanks for the Memories! – The Songs of Leo Robin
The historic Delray Beach Playhouse announces their 2018-19 Season of a mix that includes dramas, musicals & children's plays. Located on beautiful Lake Ida, the Delray Beach Playhouse has been known for its exceptional community theater offerings since it was established in 1947. The Playhouse continues its highly popular Musical Memories Series, hosted by Artistic Director Randolph DelLago, and opens its 72nd season with an impressive lineup. The series leads off with the show Thanks for the Memories! – The Songs of Leo Robin. this October 15-24. This show promises to be informative with narration by Randolph DelLago in his signature style and entertaining with outstanding music performances by vocalists from the Palm Beach Opera.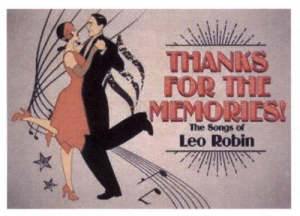 Delray Beach Playhouse describes the show: "Leo Robin wrote his first Broadway show in 1926, and he continued writing great songs for Broadway and Hollywood for the next three decades! In addition to writing "Thanks for the Memory" for Bob Hope, he also created signature songs for Hollywood legends like Jeannette MacDonald ("Beyond the Blue Horizon"), Tony Martin ("Hooray for Love"), Perry Como ("Prisoner of Love") and Bing Crosby ("June in January" and "Love in Bloom"). Elvis Presley even had a hit with his song "Blue Hawaii."  His Broadway shows also included GENTLEMEN PREFER BLONDES, the show that made Carol Channing a star and (later) showed the world that Marilyn Monroe could sing with songs like "I'm Just a Little Girl from Little Rock" and "Diamonds Are a Girl's Best Friend."
Leo Robin was one of the most influential songwriters who helped shape the careers of many of Hollywood's greatest stars especially during their early years. In the first rush of sound films where Leo Robin wrote the lyrics, Jeanette MacDonald starred in many of them including The Vagabond King (1930), Monte Carlo (1930), Paramount on Parade (1930) and One Hour with You (1932). Prior to this rush, Jenni and Leo worked together on the Broadway show Bubbling Over (1926). In these films, Jenni, also known as "The Iron Butterfly," introduced many songs penned by Leo Robin and they became part of The Great American Songbook including "Beyond the Blue Horizon" and "Always in All Ways" from Monte Carlo and "One Hour With You" from the film with the same name — just to name a few. We remember the famous train scene with Jeanette MacDonald singing "Beyond the Blue Horizon" to the blowing of the whistle and the rhythm of the wheels in Monte Carlo. For your enjoyment, here is a magical musical moment from Monte Carlo with director Ernest Lubitsch's famous train scene with Jenni singing "Beyond the Blue Horizon."
Delray Beach Playhouse is one of the most outstanding community theatres
Delray Beach Playhouse is one of the most outstanding community theatres in the country. Delray Beach is a gem known worldwide as a vibrant, intimate town with big city sophistication, of South Florida, directly on the Atlantic Ocean. Many have visited since The Delray Beach Playhouse first opened its doors in 1947 of its lakeside community theater. And today, the Playhouse is stronger and more exciting than ever, boasting thousands of members, hundreds of actors and volunteers, and live theatre for all ages. Nestled in a park on beautiful Lake Ida, The Delray Beach Playhouse delivers Broadway Plays, Musical Memories, Interactive Studio Theatre, Cabaret, Nostalgia Concerts, Children's Theatre productions, and youth classes and camps.

Artistic Director Randolph DelLago narrates presentation in his signature style           
Every once in awhile, Randolph DelLago wants to get out from behind the curtain. Del Lago is the artistic director of the Delray Beach Playhouse, so when he gets that old itch to perform, he could cast himself as the leading man in one of the playhouse`s productions. But instead, he fulfills his performing instinct with his wonderful narration. Randolph DelLago does extensive research, writes the scripts and engages a troupe of four singers to sing the music to sell-out audiences. Randolph has created popular showcases of well-know playwrights, stage actors and actresses and in past seasons he has provided retrospect's on the lives of Lillian Hellman, Arthur Miller, George S. Kaufman, Somerset Maugham, and Fanny Brice, to name a handful. Randolph's introductory monologue in his musical tribute to the honoree Leo Robin will be compelling. "Beyond the Blue Horizon" became Jeanette MacDonald's signature song and she sang it again in the 1944 film Follow the Boys in a scene where Jenni is joined by the soldiers in singing this classic song.