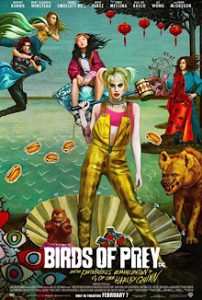 Birds of Prey and the Fantabulous Emancipation of One Harley Quinn ("Birds of Prey") is an upcoming American superhero film based on the DC Comics team Birds of Prey. Birds of Prey is named for DC Comics' premiere all-female superhero team, and it follows Harley Quinn (Margot Robbie), Black Canary (Jurnee Smollett-Bell), the Huntress (Mary Elizabeth Winstead), and detective Renee Montoya (Rosie Perez), as they try to protect Cassandra Cain (Cassandra Cain) from the machinations of Batman villains Black Mask (Ewan McGregor) and Mr. Zsasz (Chris Messina). The movie takes place sometime after the events of 2016's Suicide Squad movie. Birds of Prey is scheduled to hit theaters on February 7, 2020.
Birds of Prey features a scene that may look familiar because you've seen the sequence that inspired them, from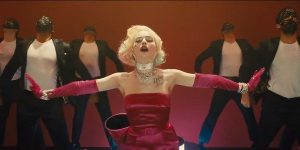 Marilyn Monroe's performance of the musical number "Diamonds Are a Girl's Best Friend," composed by Jule Styne with lyrics by Leo Robin, in 1953's Gentlemen Prefer Blondes. In this throwback scene, Margot Robbie's Harley apparently is singing and dancing and dressed elegantly, not Harley's usual style, and has backup dancers, who look like comic book villain thugs, of course.
Robbie, who also serves as producer, pitched the idea for Birds of Prey to Warner Bros. Pictures in 2015. The film was announced in May 2016; Hodson was hired to write the script that November, while Yan signed on to direct in April 2018. The majority of the cast and crew were confirmed by December 2018. Principal photography lasted from January to April 2019 and took place in Downtown Los Angeles, parts of the Arts District, Los Angeles, and sound stages at Warner Bros. Studios, Burbank in Burbank, California. Additional filming took place in September 2019.
Harley Quinn and her girl gang are back in a new trailer for Birds of Prey. The new trailer gave us another look at the psychedelic Gotham City crafted by director Cathy Yan. Check out the trailer below.