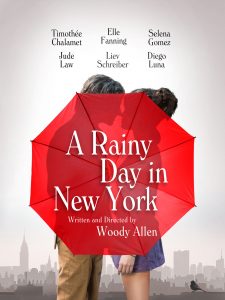 A Rainy Day in New York is a 2019 romantic comedy film written and directed by Woody Allen. It stars Timothée Chalamet, Elle Fanning, Selena Gomez, Jude Law, Diego Luna, and Liev Schreiber. The film follows the romantic exploits of a young college student (Chalamet) on a weekend trip in his hometown of New York City, trying to further bond with his college girlfriend (Fanning) while she is in the city to interview a famous film director (Schreiber). 
Timothée Chalamet stars as Gatsby Wells, a student at Yardley College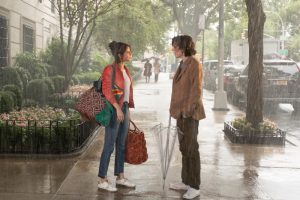 and the son of wealthy New York City-based parents. Despite a deep feeling of alienation, and disdain for most people at Yardley, the bright young man continues to attend courses because of his girlfriend Ashleigh (Elle Fanning), a rich student from Tucson.  
Anyone familiar with Allen's body of work won't be surprised in the least to find out that A Rainy Day is business as usual for the prolific filmmaker. Neurosis, self-doubt and chaos take centre stage in this charmingly whimsical story about young love and new found hope. Once again, Allen can't resist injecting his own brand of dark humor to the proceedings in this brilliantly acted drama comedy. 
Sunny reviews for A Rainy Day in New York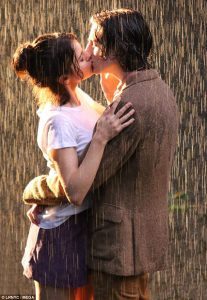 Linda Marric of The Jewish Chronicle Jude Law gives this blue sky review: "a brilliantly neurotic and unhinged performance as Ted Davidoff, a writer who bears more than a little resemblance to Allen himself.  Elsewhere, Diego Luna shines as the handsome young actor who sweeps Ashleigh off her feet after a chance encounter. 
Elevated by some stellar performances courtesy of its young cast, A Rainy Day In New York may not hold all the answers or get every single thing right, but this is once again a classic Woody Allen narrative and a true return to form for the legendary filmmaker. 
Matt Thrift of Little White Lies gives the film as sunny with a few clouds review, calling the film "hardly top-tier Allen" but had "such wonderful performances" from the trio casts. Lisa Nesselson for Screen Daily praised the "splendid performances" and Vittorio Storaro's brilliant cinematography, and noted that the film is "far more hit than miss." 
Jordan Mintzer of The Hollywood Reporter suggested that "A Rainy Day has its moments, most of them thanks to star Timothée Chalamet […] who does a terrific job channeling your typical Allenian antihero," and "Fanning does her best with such a problematic character," but concluded that the film is merely Allen's watchable rehashed themes. 
Marilyn Monroe classic Bye Bye, Baby"
In 1949 Robin collaborated with July Styne writing the score for the Broadway Musical Gentlemen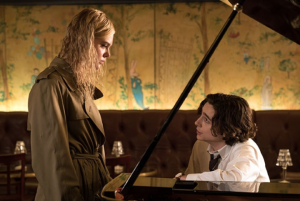 Prefer Blondes. The production starred Carol Channing and included the songs "Bye Bye, Baby," "A Little Girl from Little Rock," and, of course, "Diamonds are a Girl's Best Friend." A few years later, Marilyn Monroe starred in the 1953 movie version of the musical. The song "Bye Bye, Baby" has covers by many of the greatest jazz artists such as vocalists Frank Sinatra, Maxine Sullivan and Tony Martin and saxophonist Eric Alexander and Earl Hines Trio. Here is the scene in the film A Rainy Day in New York with the song "Bye Bye, Baby."