Seth MacFarlane's new album In Full Swing receives lofty praises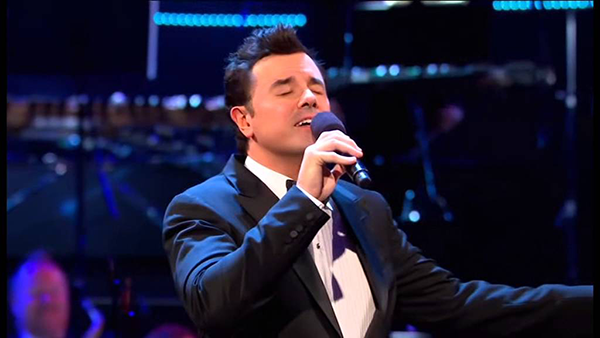 Grammy-nominated artist Seth MacFarlane's love affair with standards continues with his fourth album, In Full Swing, set for release on September 15 on Verve Label Group/ RepublicRecords. The album was highly acclaimed by many critics. In this except from a review on August 18, 2017 by the Music News Desk on broadwayworld.com, the album receives lofty praises:
"MacFarlane wraps his rich, expressive baritone around 16 toe-tapping tunes he handpicked, utilizing his near encyclopedic knowledge of songs from the era. A connoisseur of the period, MacFarlane delighted in finding obscure gems, many first featured in musicals, to sprinkle between the better-known tracks from the '20s, '30s, '40s and '50s. In Full Swing is irrepressibly upbeat about cupid's arrow finding its mark.
Blessed with an arranger's ear, MacFarlane revamped the originals with a deliberate approach, sometimes altering the tempo and structure during sessions with producer/arranger Joel McNeely….he adds a sultry heft to the fluffy 'A Kiss Or Two,' [a tune from the smash 1927 Broadway show Hit the Deck, written by Leo Robin (W), Clifford Grey (W) and Vincent Youmans (M).]"…
For MacFarlane, who this fall stars in The Orville, a sci-fi dramedy he created, music provides another path for his abundant talent to shine as he steps in front of the microphone to make familiar songs new again."
For your enjoyment, here is a magical musical moment of Seth Macfarlane singing "A Kiss Or Two."
Seth MacFarlane's love affair for singing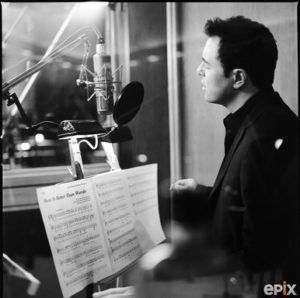 Outside of his television and film work, Seth MacFarlane has found time to cultivate his love for singing. Regarding his musical passion, MacFarlane says, "I love and am fascinated by exciting orchestration—what you can do with a band that size—and I think in many ways it's a lost art." MacFarlane comments on using musicals as a component to Family Guy: "I love the lush orchestration and old-fashioned melody writing … it just gets you excited, that kind of music," he said. "It's very optimistic. And it's fun. The one thing that's missing for me from popular music today is fun. Guys like [Bing] Crosby, or [Frank] Sinatra, or Dean Martin, or Mel Tormé […] these are guys who sounded like they were having a great time."
All of these guys have recorded the music of Leo Robin. Frank Sinatra recorded a great many standards including "Blue Hawaii," "Bye Bye, Baby," "For Every Man There's a Woman," "If I Should Lose You," "Just a Kiss Apart," "Love Is Just around the Corner," "My Ideal," "Prisoner of Love" and "With Every Breath I Take." In 1981, The Chairman of the Board personally commissioned Leo to create an updated version of "Thanks for the Memory" for him to record on his new album, She Shot Me Down, and to perform on his live TV special, Bang Bang Baby She Shot Me Down.
Bing Crosby sang over a hundred songs in musicals with scores written by Leo and made recordings of some too and many went on to become popular standards like "Blue Hawaii," "Here Lies Love," "June in January," "Love in Bloom," "Love Is Just around the Corner," "Please," "With Every Breath I Take" and "Zing a Little Zong." Dino recorded many classics including "Louise," "Love Is Just around the Corner" and "Please." Mel Tormé covered standards such as "I Can't Escape from You," "In Love in Vain," "Love in Bloom," "Love Is Just around the Corner," "Please" and "With Every Breath I Take."
Seth Macfarlane's first album of standards, Music is Better Than Words, debuted at #1 on the iTunes jazz chart and received a Grammy nomination for Best Traditional Pop Vocal Album. His 2014 Christmas set, Holiday for Swing, also debuted at No. 1, and was followed by No One Ever Tells You, another iTunes chart topper. He's performed with composer John Williams at the Hollywood Bowl and this year, duetted with Barbra Streisand on "Pure Imagination" for ENCORE: Movie Partners Sing Broadway.
Biography of Seth Macfarlane
Seth Macfarlane is a popular entertainer who has made his mark as an actor, filmmaker, television producer, comedian and singer, working primarily in animation and comedy, as well as live-action and other genres. Though his works are spread over different genres, he principally focuses on comedy and animation. Animation has been a passion for him since childhood; he began drawing cartoon characters when he was as young as two years old. This interest earned him work as a cartoonist with a local newspaper when he was only nine years old.
MacFarlane is the creator of the TV series Family Guy (1999–2003, 2005–present) and The Orville (2017), and co-creator of the TV series American Dad! (2005–present) and The Cleveland Show (2009–2013). He also wrote, directed, and starred in the films Ted (2012), its sequel Ted 2 (2015), and A Million Ways to Die in the West (2014).
In his personal life, Seth Macfarlane is passionate about music and finds time to nurture this interest. He is also a trained pianist. A lifelong fan of big band tunes and retro-style full orchestras, he has recorded four albums with pop, jazz, swing and big band tunes.