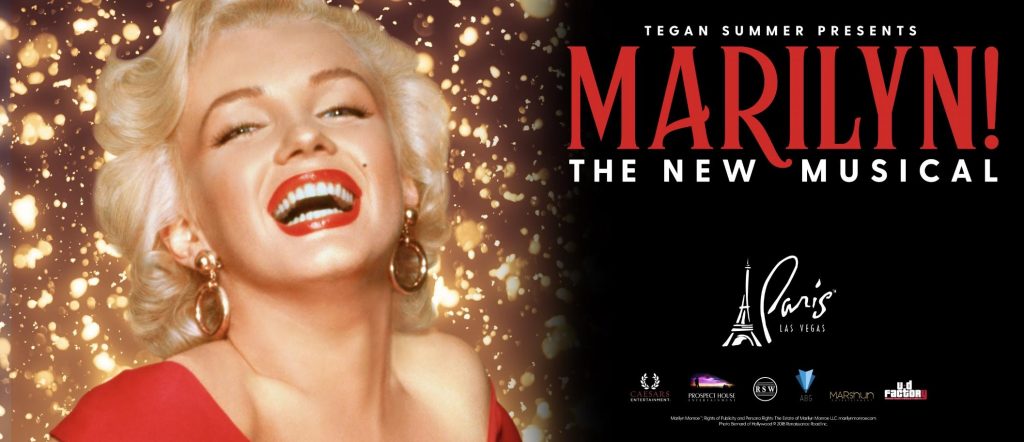 Marilyn! The New Musical Premieres At Paris Las Vegas
One of Hollywood's most iconic stars is coming to the Las Vegas Strip in Marilyn! The New Musical, an original musical based on the life of Marilyn Monroe. The show will open at Paris Las Vegas with preview performances beginning May 23 and a grand opening June 1, just in time for Marilyn's birthday. The musical is written, directed and produced by Tegan Summer, CEO of Prospect House Entertainment, in partnership with Authentic Brands Group, owner of the Estate of Marilyn Monroe.
Marilyn! The New Musical is based on the life of Hollywood's greatest icon. Told through the eyes of her
trusted driver Charlie, Marilyn Monroe's meteoric rise to stardom is fueled by her fierce feminism and determination to succeed professionally, while equally plagued by her devastating personal failures. Through marriages, movies and iconic moments in history, Marilyn Monroe constantly battles with her ever present alter ego, Norma Jeane, in her search for true happiness. The new musical will feature acclaimed Broadway actress Ruby Lewis as the resident Marilyn Monroe. 
Marilyn! The New Musical features original musical numbers by Gregory Nabours as well as classics like "Diamonds Are a Girl's Best Friend, " by Jule Styne and Leo Robin and "My Heart Belongs to Daddy," by Cole Porter, choreography by Ferly Prado, set design by Matt Steinbrenner and casting by Michael Donovan, telling the story of one of the world's most famous women, from her days as Norma Jeane overcoming a difficult childhood, to her meteoric rise to stardom and becoming one of the biggest and most enduring sex symbols of all time.
The Life of Hollywood's Greatest Icon
"Marilyn Monroe is a true American icon and there is no better way to bring her story to the stage than through a unique American art form: the musical," said Summer. "Marilyn has always been an inspiration to me because she is the ultimate story of the human condition, and I have always been fascinated by the dichotomy between Norma Jeane and Marilyn. The story will pull at the heart, touching anyone who is reaching for something greater than themselves and to persevere no matter what the obstacles."
"Marilyn continues to inspire today's performers, influencers and fans regardless of gender or age," said Marc Rosen, SVP Entertainment, Authentic Brands Group, owner of the Estate of Marilyn Monroe. "Tegan and his team have created a dynamic show that audiences are going to love. We're so excited to tell this story and look forward to Marilyn! becoming a staple on the Las Vegas Strip for years to come."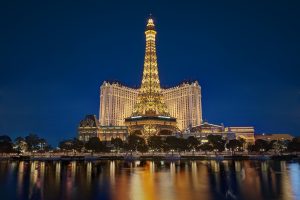 "The Paris Theater has a great legacy of hosting some of the most successful musicals in Las Vegas history," said Jason Gastwirth, president of entertainment at Caesars Entertainment. "We are proud to be a co-producer of Marilyn!, a highly-anticipated musical with top talent and celebrity status, and a significant addition to our impressive lineup at Caesars Entertainment."
The Cast and Set
The Marilyn! cast includes the best talent that Broadway, Los Angeles and Las Vegas have to offer including: Brittney Bertier as Norma Jeane, Frank Lawson as Charlie, Marilyn's trusted driver, Travis Cloer as Milton Greene, Chris Fore as Bill Pursel, Randal Keith as Darryl F. Zanuck, Christopher Showerman as Joe DiMaggio, Matthew Tyler as Arthur Miller, Lindsay Roginski as Jane Russell, Una Eggerts as Jayne Mansfield, and Chanel Edwards-Frederick as Ella Fitzgerald. Kelley Jakle will serve as the swing for Marilyn Monroe. In addition, the show anticipates a rotating cast of celebrity guest performers in the lead and supporting roles.
Representing the essence of the era of Marilyn Monroe with a modern twist, the set will feature dynamic, cutting-edge, contemporary design that retains all of the beauty and nostalgic elements of the Golden Age of Hollywood.