Grammy award-winning composer Maria Schneider ended her concert at The Center for the Arts at George Mason University with "My Ideal," a standard she has been playing ever since her live performance at the Jazz Standard in New York in 2000
Jazz lovers know that The Center for the Arts at George Mason University is one of the best venues to enjoy a great night of music, as the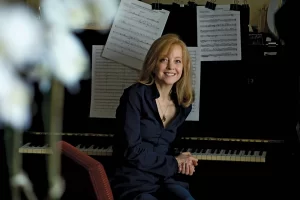 Metropolitan Jazz Orchestra delivers unforgettable performances whenever it takes to the stage. That's certainly would be the case on April 16, when the orchestra, which was founded by artistic director and saxophone virtuoso Jim Carroll, welcomes seven-time Grammy Award-winning composer and jazz orchestra leader Maria Schneider conducting the night's performance.
The concert ended with 'My Ideal," composed by Richard Whiting and Newell Chase with lyrics by Leo Robin, arranged by Schneider. Schneider was originally slated to perform and be in residence at the Center for the Arts in the spring of 2020, but the pandemic forced her participation to be cancelled, though she did participate in a virtual event as part of Mason Arts at Home. 
Maria Schneider's music has been hailed by critics as "evocative, majestic, magical, heart-stoppingly gorgeous, imaginative, revelatory, riveting,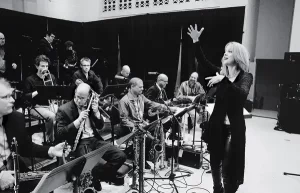 daring, and beyond categorization." Blurring the lines between genres, her varied commissioners stretch from Jazz at Lincoln Center, to The Saint Paul Chamber Orchestra, to the American Dance Festival, and include collaboration with David Bowie. She is among a small few to receive Grammys in multiple genres, having received the award in jazz and classical, as well as for her work with David Bowie.
Maria Schneider has been playing "My Ideal" ever since it was recorded on her album Days of Wine and Roses, captured in a live performance at the Jazz Standard in New York. It was originally packaged in 2000 with two bottles of Riesling wine for sale, conceived and promoted as a marriage of music and wine, when the project encountered difficulties as the laws governing the sale and distribution of liquor prevented the sale of the album. Thus Maria Schneider decided to reissue the CD in 2004. This album is different from her previous work because there are five standards, including the soft and warm Whiting, Chase & Robin's tune "My Ideal," which is arranged with the flugelhorn in mind and showcases Greg Gisbert and the woodwind section and this album represents Schneider's only live recording session. Pop the cork and toast Maria Schneider and her fantastic orchestra for this heart-stopping musical treat.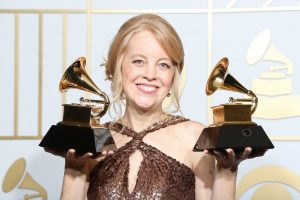 Schneider's many honors also include: 14 Grammy-nominations, 7 Grammy Awards, numerous Jazz Journalists Association awards, Downbeat and Jazztimes Critics and Readers Polls awards, an honorary doctorate from her alma mater, the University of Minnesota, ASCAP's esteemed Concert Music Award (2014), the nation's highest honor in jazz, "NEA Jazz Master" (2019) (NEA Jazz Master Speech found here), and election into the 2020 American Academy of Arts and Sciences.
University of Wisconsin-Platteville hosts an annual Jazz Festival with the special guest Maria Schneider conducting her arrangement of "My Ideal."