Feinstein and Ebersole will take a summer stroll through classic standards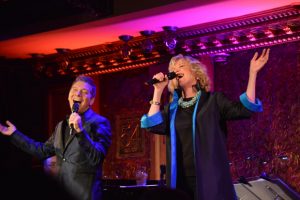 Michael Feinstein, ambassador of the Great American Songbook and two-time Tony Award winner Christine Ebersole introduce a program of duets and medleys from the Golden Age at the New York theater district nightclub that bears Feinstein's name, Feinstein's/54 Below. Michael Feinstein and Christine Ebersole's cabaret show Two for the Road has a run during the summer of 2018 at Feinstein's club. In this series of concerts, which celebrates the Great American Songbook, the acclaimed performers have the rich accompaniment of percussionist Mark McLean, bassist Phil Palombi and pianist Ted Firth.
 Feinstein and Ebersole will take a summer stroll through classic standards such as "Stormy Weather," "Time After Time," "On the Atchinson, Topeka and the Santa Fe," and of course "42nd Street," in a resplendent celebration of the Great American Songbook. In this show, Feinstein and Ebersole perform their show's namesake, Henry Mancini's "Two for the Road" and Feinstein intermittently takes over at the ivories, including for a playful rendition of "Rhode Island Is Famous for You." They mix in occasional banter, for example, "Christine is my soulmate, don't tell Liza." Feinstein remarks.   The show stopping performance arrives with the rendition of the Leo Robin and Ralph Rainger song "Thanks for the Memory," which is the perfect song since the audience is charmed in a glamorous celebration of duets and medleys from the Golden Age in a memorable evening.   
The duo luminaries serenade at Feinstein's/54 Below
This show is part of Feinstein's/54 Below's Summer 2018 concert series: Duo Shows at 54! From partners to siblings to co-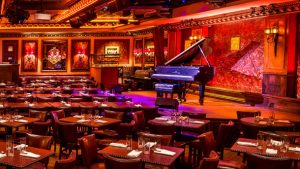 stars and beyond, these evenings will celebrate the special collaboration of two artists brought together. Sell-out crowds are able to see some of today's greatest performers team up with each other for this unique and exciting series. Feinstein's/54 Below is located at 254 W 54th Street in Manhattan. The show hosting Feinstein and Ebersole's duo show started July 31 and continues through September 3 at the club named for the musician in 2015 when Feinstein became a partner.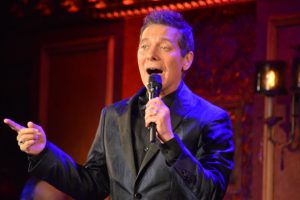 Michael Feinstein has built a dazzling career over the last three decades bringing the music of the Great American Songbook to the world with recordings that have earned him five Grammy Award nominations, Emmy nominated PBS-TV specials, acclaimed NPR series, and concerts spanning the globe. His work as an educator and archivist define Feinstein as one of the most important musical forces of our time. He currently serves as Artistic Director for The Center for the Performing Arts in Carmel, Indiana. 
Christine Ebersole won two Tony Awards for Best Actress in a Musical for 42nd Street and Grey Gardens. She has also starred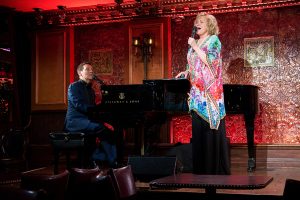 in film Wolf of Wall Street, in television shows "Sullivan & Son" and "Royal Pains" and has performed concerts in theaters and concert halls across the country, from The Kennedy Center in Washington and Carnegie Hall in Midtown Manhattan to Pasadena and the Boston Pops. She was most recently nominated for a Tony Award for her acclaimed performance in War Paint on Broadway. 
Michael Feinstein sings the music of Leo Robin at Leo's wedding
Michael Feinstein attended, as a guest, and performed on August 26, 1979 at the wedding of Leo Robin, who married Cherie Redmond, his longtime accountant and personal assistant, after being together for more than 25 years. They married at the brides daughter's home. She had previously worked for the renowned Hecht Hill Lancaster Production Company and later was personal secretary to Marilyn Monroe. Cherie once said, "I knew I had to marry the man who wrote such wonderful love songs." At their wedding, Leo sang to her with Michael Feinstein playing piano to "If I Should Lose You." Michael sang some of Leo's songs, to the attendees delight, as he played piano to some of all-time favorites written by Leo.
Michael Feinstein recorded many songs penned by Songwriter Leo Robin including "Hooray for Love," "I'm Just a Little Girl from Little Rock" and "Love Is Just around the Corner" — just to name a few. For your enjoyment, here is a magical musical moment of Michael singing the classic jazz standard "Love Is Just around the Corner."